Uniform

School uniform is an important part of the ethos of Shenley Brook End school and all students are encouraged to always take pride in their appearance and their association with the school. School uniform should be worn to and from school as well as during the school day.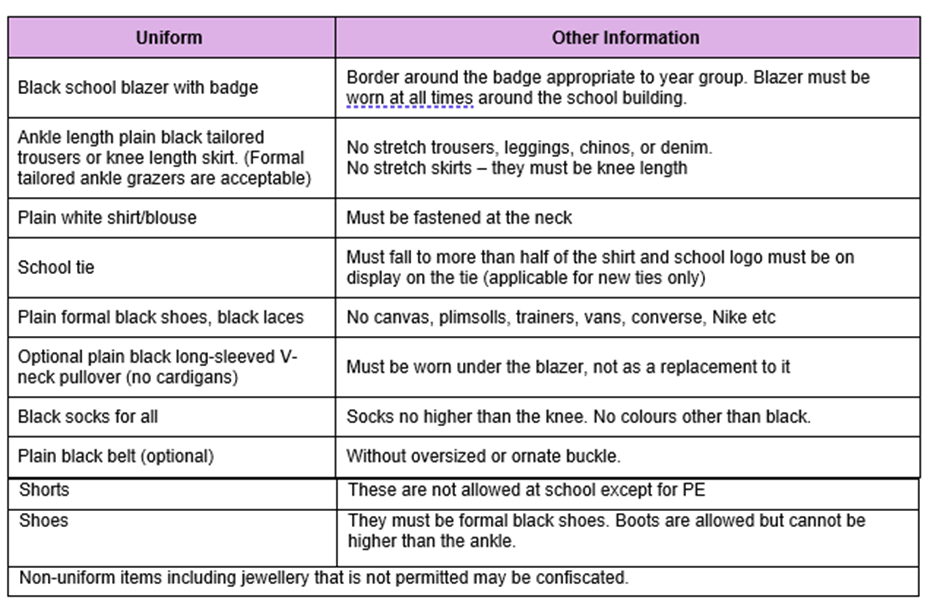 Q: Can I wear tights?
A: You can wear plain tights with no pattern. These must be a neutral colour (beige or black).
Q: Can I wear trainers to school?
A: You must wear formal black shoes to school. The only circumstances this might be considered is if you are injured. To allow this a note in this Learning passport must be written by your parents/carers and shown to your tutor or an email sent to the tutor.
Q: Are coats allowed in the school building?
A: Coats and hoodies must be removed in the building, except during exceptional cold weather as notified via an email home. Even during exceptional cold weather coats and hoodies are not to be worn in lessons.
Q: On a cold day, can I wear a jumper or hoodie under my blazer?
A: You are allowed to wear a plain black V neck jumper under your blazer. All other jumpers are not allowed.
Q: Can I wear a hat?
A: You may wear a hat on the way to school, but as soon you arrive on school premises your hat must come off.
Q: What happens if it is extremely hot (a heat wave)?
A: On rare occasions the weather is extremely warm, Mr McCluskey will issue a message to students and parents/carers giving instructions on uniform and may allow students to wear PE shorts.
PE Kit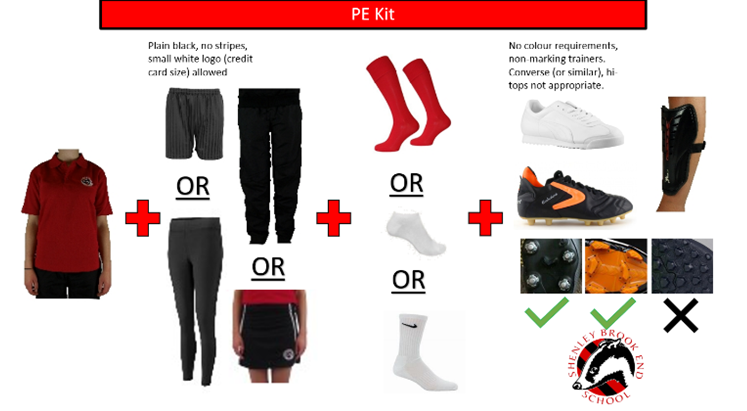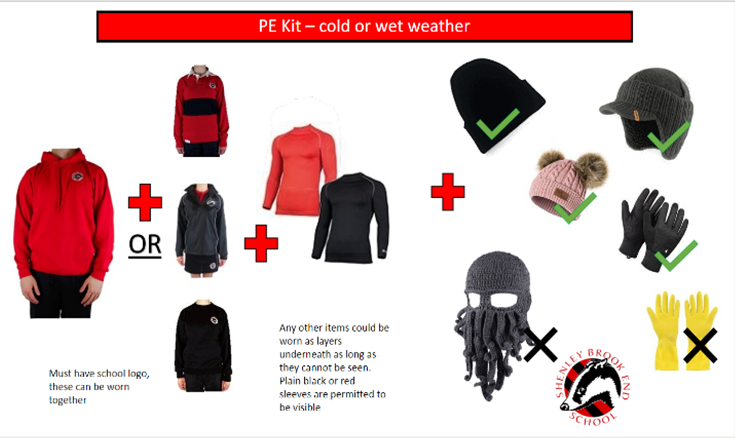 If a student is unable to fully take part in PE, due to minor injury or illness, then this information needs to be emailed from a parent/carer to the PE teacher prior to the lesson. PE kit still needs to be brought to the lesson and worn during these circumstances. The only circumstances in which PE kit will not need to be brought or worn during a lesson is due to major injuries resulting in the inability/difficulty to get changed.
We offer lots in the way of warmer options and also allow non-PE uniform to be worn underneath their PE kit in cold circumstances.
Some students may still have previous SBE labelled PE kit items, such as hoodies and jumpers. These can still be worn in lessons but are now longer able to be bought from the suppliers.
Should a situation arise where a student is unable to bring their full PE kit, for any reason, an email within 24 hours of the lesson to their teacher, accompanied by an alternative sportswear that they could wear, would suffice. This would be a short-term solution only.
Information
All school uniform, until January 2024, can be purchased from Maisies at the shop in Church Street, Wolverton, MK12 5JW or ordered at
Home - Maisies Schoolwear (maisies-superstore.co.uk)
All school uniform, from January 2024 onwards, can be purchased from Kedaph.
Unit A Lennox Road
Bletchley, Milton Keynes
MK2 2HH
Kedaph Schoolwear – Milton Keynes – Your Best School Supplies
All items specified as 'Shenley Brook End School approved' sold by Maisies/Kedaph satisfy our requirements; if using another supplier, please ensure that items are acceptable to the school.
Selected items can be bought from other retailers eg John Lewis, M&S and Tesco but must conform to the uniform guidance.
Items of uniform should be clearly marked with students' names.
Please be aware that some shops sell items as 'school wear' that do not fulfil our requirements.