A level Results day!
It's been a happy and busy morning here at Shenley Brook End School where for the first time in a few years our students have come in to receive their results having actually sat their exams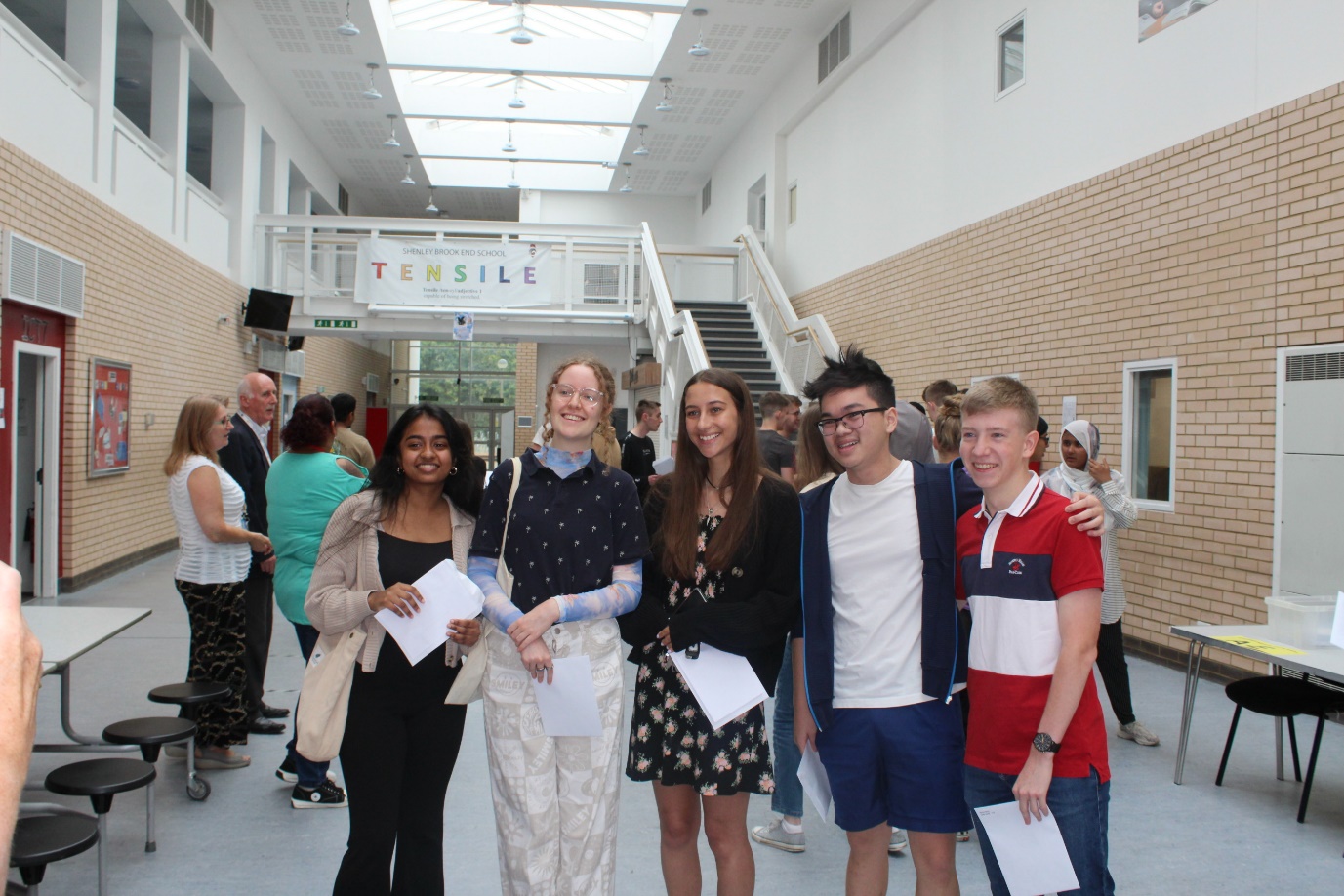 We are delighted for our students, whose hard work along with the support of parents and teachers has culminated in wide-ranging celebrations. Nearly half of all students achieved a grade A*-B with just under a quarter of grades at A*-A. There were also tremendous successes in our vocational subjects with a number of Triple and Double Distinctions in the National Diploma in Sport.
Congratulations go to all those who have achieved the grades to access their desired destinations. I'd also like to commend those who have not quite attained what they hoped for and compliment them on the way they have been engaging with the support on offer in order to access their next steps.
There were many outstanding results and particular congratulations go to the following students.
Shannon Bacon – 3 A* and A* EPQ - place at Oxford for Experimental Psychology
Millie Heathcote – 3 A* and A* EPQ -place at Cambridge for Geography
Thomas Palmer – 3 A* - place at Loughborough for Mechanical Engineering
Lucy Faulks – 3 A* - place at Warwick for Chemistry
Himesh Khoda – 3 A* - place at Durham for Maths
Hannah Berkley – A*A*A and A* EPQ – place at Nottingham for Liberal Arts
Dean Wood – A*A*A – place at Loughborough for Architecture
William Culley – A*AA and A*EPQ – place at Lancaster for Computer Science
Saniya Khan – A*AA – place at Warwick for Law
Woody Merchant – AAB and A* EPQ – place at King's College London for Geography
Kayleigh Munyard – Triple Distinction BTEC Level 3 National Diploma in Sport – place at Durham for Sport
Rosie Burton-Pye – Double Distinction* and A and then A in EPQ – place at Loughborough for Sports Psychology
Joe Raine – Double Distinction* Sport – place on Apprenticeship for tennis coaching
It's always a particular pleasure to celebrate the achievements of our Head Boy and Head Girl who undertake their A levels whilst giving so generously of their time to the school community. Well done to Ben Fullilove and Amy Lester who achieved the high grades required to move on to Norwich and Bournemouth to study Games Art and Design and Sports Therapy respectively.
Congratulations also go to Megan Harrison, Renee Morgan and Nidhi Makwana who have become our first ever Arts Gold award students!
It's lovely to see the breadth of achievement across so many subjects with the Arts, Humanities, Social Sciences and Sciences so well represented. It's also encouraging to the see such a high number of quality destinations.
I'd like to finish with a lovely story of our identical twins Charlotte and Jessica Findley. Charlotte achieved an A*AA and an A* in her Extended Project. So did Jessica! They described this to me as 'very much a twin thing!' They both have places at Loughborough to study English and Economics respectively.
Congratulations once again to everyone involved and some wider praise for those at Hazeley for their successes today. Our 6th forms collaborate closely as part of the 5 Dimensions Trust and it's great to see this reflected in the success of our students across both 6th forms.
Mr Holmwood