GCSE Results 2021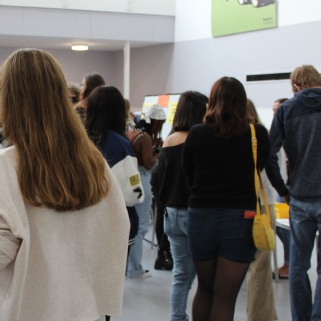 Many congratulations to our Year 11 students on the great results received today! It's been another challenging year and I am delighted to see how they have risen to the challenge. It was lovely to have so many staff and students back in school together celebrating this morning. Healthy numbers of students achieved impressive grades with many students demonstrating superb progress and earning the right to exciting next steps!
With the recent success of Team GB firmly in mind I am proud to be able to praise the resilience, determination, family support and teamwork during the last 18 months. To have achieved these outcomes is reflective of the many qualities we have seen on our screens in recent weeks.
There are many success stories amongst these results. Special congratulations go to the following students.
Amber Frost and Alisha Bhatti – 8 grade 9s, 1 grade 8 and a Level 2 Distinction*
Robertas Barkauskas – 7 grade 9s, 1 grade 7, 2 Level 2 Distinction*s
Yasmine Ezawah – 6 grade 9s, 3 grade 8s and a Level 2 Distinction*
Abigail Moore – 6 grade 9s, 2 grade 8s, 1 grade 7 and a Level 2 Distinction*
Jessica Johnston – 5 grade 9s, 4 grade 8s, and a Level 2 Distinction*
Alexandra Shirley – 6 grade 9s, 1 grade 8, 2 grade 7s and a Level 2 Distinction*
Leonardo Taylor – 6 grade 9s, 2 grade 8s, and a Level 2 Merit.
Ashwin Baskaran – 5 grade 9s, 2 grade 8s, 1 grade 7, 1 grade 6 and a Level 2 Distinction*
Leroy Barnie – 3 grade 9s, 6 grade 8s and a level 2 Distinction*
The overwhelming majority of our students have gained the grades they need to progress directly to their preferred next step which for the vast majority is our thriving 6th Form. Support is of course in place for those exploring other destinations and we wish everyone well in their next steps.
Many congratulations to all of our students on their success this summer. I hope this summary reflects the teamwork and individual efforts that make our school a happy and high achieving place. Congratulations also go to the students at The Hazeley Academy where there is a similarly impressive picture. We work closely together to create a vibrant community of exceptional people so it is great to be able to celebrate these exceptional outcomes as a community together.